Craft spirits are not slowing down anytime soon.
According to the American Craft Spirits Association (ACSA), there are 1,835 active craft distilleries, up 15.5% from 2017. In that time, producers saw a 23.7% growth in retail cases sold, up to 7.2 million, and a 29.9% rise in sales, up to $3.7 billion. Between 2011 and 2015, Mintel GNDP revealed craft spirit launches increased by 265 percent globally, accounting for one in seven global spirit launches. Forecasts are showing the craft trend will continue its epic rise, with total sales and revenue, market share, investment, and employment all on the up.
How and why did craft skyrocket? The generational shift from Baby Boomer to Gen X and now to Millennial has turned the corner. Millennials (Born 1981-1996, aged 22-37) are at the most important age range for economic activity–they outnumber their predecessors and spend $600 billion in the US each year. Big companies are scrambling to find new means to match their tastes and values: locality, originality, quality, naturally made and trustworthy, to name a few.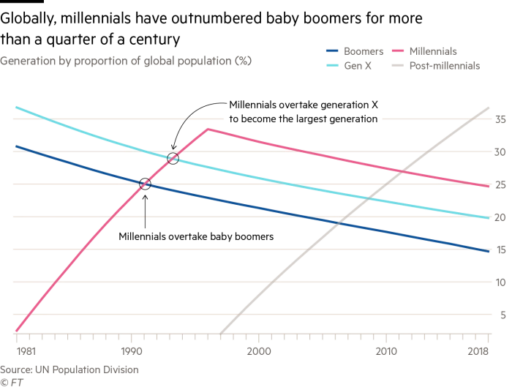 Craft distilleries fit perfectly on millennial's ideological scale. They're niche, there's usually a family-oriented or relatable story and it's high quality. The creative ethos these brands offer is different, and consumers can define themselves amongst the brand. Us millennials are a fickle bunch, don't trust easily and are often pessimistic about the world. We struggle for security and the idea of feeding into large corporations irks us the wrong way.
Millennials are also receiving information in a variety of ways and are sensitive to how its consumed. The days of traditional big box brands advertising for market share is slowly ending and social media has become pivotal. Sourcing via likes on what's trending and having access to hundreds of friends who speak fondly of a local product creates engagement. Social media also invites people to partake in something new and unique.
These new experiences are authentic and confer like-minded values that create strong brand loyalists. Bigger brands are taking note but must avoid appearing disingenuous. Brands like Buffalo Trace use their considerable revenue to share interesting information and offer intrigue, like their study tracking real-time temperature and humidity in the distillery's warehouses and its effects on flavor.
Craft isn't afforded the revenue big brands receive so is it high quality? Yes, and the quality of the whisky they are producing is only getting better (and millennials know it). New players in the industry like Kentucky Peerless Distilling Co. is the perfect example, winning Craft Producer of the Year by Whisky Magazine and named the 15th best whisky in Whiskey Advocate's top 20 (the only rye on the list) with only a 2-year-old age statement. Peerless hits all the marks: family-owned, high-quality and relatable.
According to the ACSA report referenced earlier, market share for craft spirits in 2017 grew to 3.2% in volume and 4.6% in value, up from 1.2% and 1.4%, respectively, in 2012. While it's a small piece of the spirits pie, it's a clear indication of how important millennial values are, especially as the main buying power in the world, and why the craft industry has no signs of slowing down.